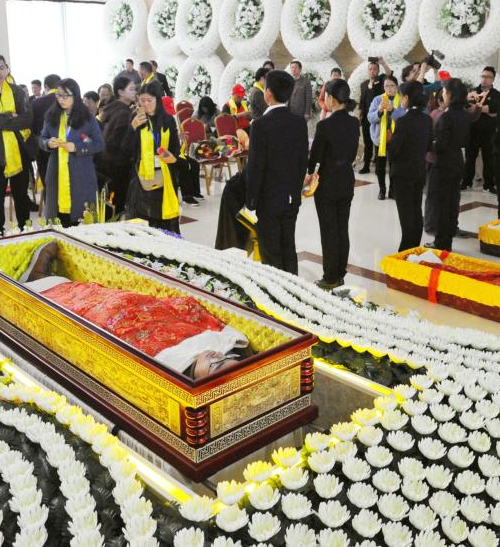 Essential Qualities Of A Funeral Service Provider in Singapore
When we face the loss of a loved one, we turn to funeral service providers to help us through the grieving process. This is why choosing the right funeral director is crucial, as they will be there during one of the most difficult times in our lives. Here are some important qualities that every funeral service in Singapore should possess to ensure that they can provide the best possible support to their clients.
To be a competent funeral director, it's essential to provide families with support, hope, and meaning during one of the most challenging times in their lives. A successful funeral director takes tremendous pleasure in their profession and strives to offer the finest care to the loved ones of their clientele.
Another crucial quality is trustworthiness. Families must have confidence in the funeral home's ability to prepare funeral services and handle all aspects of the funeral process with care and professionalism. Funeral directors must also be well-organized and able to handle all details, from scheduling services to managing paperwork.
Singapore Funeral Homes and Directors Should Possess the Following Three Qualities:
Compassion:
Funeral directors are entrusted with the critical task of providing empathy and support to their clients during the most challenging times in their lives. While they take tremendous pride in their profession and strive to provide the finest care to their client's loved ones, the emotional toll of the job cannot be ignored. It is not an easy task to witness the suffering of families and friends mourning the loss of their loved ones. Although the director's pain may not be the same, the profound sorrow of their clients can be emotionally taxing.
Striking the right balance between showing empathy and not being overly emotionally involved is a delicate task for funeral directors. It is a profession that coexists with other highly emotive jobs such as counselling and medicine, and the potential for burnout and mental health issues are high.
At our funeral home in Singapore, we understand the challenges that come with the profession. With years of experience in the industry, we have successfully handled thousands of funerals, all driven by compassion for people. We recognize that the death of a loved one can be overwhelming, and we strive to provide our clients with the utmost care and support during their grief.
We believe that organizing a funeral for a loved one can be challenging, particularly when dealing with intense emotions. Our team of experienced funeral directors is available to guide you through the entire process, ensuring that your loved one is honored and remembered in a way that reflects their life and legacy.
Knowledge:
Funeral planning is a task that requires a specialized set of skills and knowledge that most people do not possess. This is why seeking the assistance of a funeral director is so important when the need arises. When clients entrust their loved one's final arrangements to a funeral director, they expect a high level of expertise and professionalism.
A reputable funeral director must be knowledgeable and able to provide guidance on the legal requirements surrounding death, the available funeral services, and the costs associated with them. They must also stay up to date with industry advancements and trends to offer the best possible service to their clients.
Moreover, a good funeral director should have strong ties to the community they serve. They should be familiar with the local customs, traditions, and regulations to ensure that every aspect of the funeral service is handled appropriately. By maintaining these relationships, funeral directors can create a welcoming and supportive environment for their clients during their time of need.
Creativity:
Funeral directors require more than just local and professional knowledge to effectively organize a funeral. Some customers may be planning a funeral for the first time or maybe in a highly distressed state after a loss, and therefore may have some ideas about what they would like to happen but may not be in the right emotional state to make decisions.
In many cases, families may not have a detailed plan for how they want the funeral to proceed, so they will depend on the guidance of their funeral director to help them make appropriate decisions and determine what they can afford. Although it may sound terrible, providing a loved one with an ideal farewell is a responsibility that demands a certain level of creativity and inventiveness.
This could involve simple suggestions on a specific floral arrangement or working with others to create a genuinely original funeral. As an increasing number of people choose to bid farewell to their loved ones in non-traditional ways, such as with fancy dress funerals or musical funerals, the best funeral directors will uphold their traditions while also being flexible and, when necessary, coming up with fresh ideas that pay tribute to the unique personality of the deceased.
Why Choose us?
Nirvana Columbarium Singapore is a peaceful and serene location that symbolizes the state of Nirvana. It provides a tranquil environment with a blend of contemporary infrastructure and traditional Chinese architecture, offering a picturesque view of the Nirvana SG gardens.
As a locally owned and operated funeral home, we have been serving the community for several years and have gained valuable insights into what qualities are essential for a successful funeral director. Our funeral services are among the finest in Singapore, and we cater to all faiths, including Christians, Buddhists, and atheists, among others.
If you have lost a loved one, we are here to take care of your every need. Please contact us today to learn more about the latest Nirvana Singapore promotion and pricing.